[09.14.2018] SMALL SHIPMENT OF FALL IN DOLL 27CM RABI HAS ARRIVED!
A small shipment of Fall in Doll's 27cm Rabi has arrived restocking up on the rabbit anthro doll in light grey and white (previously sold out!)
If you waited and now see these gone by the time you look, don't be surprised and don't say we didn't warn you...

[08.26.2018] MYSTIC KIDS MSD (44-46CM) SHIPMENT!
This latest shipment from Mystic Kids restocks on many previously sold out MSD sized (44-46cm) models! This shipment includes: Caroline, Evelyn, Francis SP, Francis, Lillian, Natalia, Nicole, Ophelia, Tremmel, and Victor! Also, we special ordered: Oscar GIRL version because we felt Oscar's features would make a wonderful girl!
[08.04.2018] MYOU SHIPMENT!
Newly in stock: 17cm Tang Tang and Tao Tao, 30cm Yvonne, Silvia, and Silvia Half-Sleeping, 40cm Anthony and Marshmallow, 44cm Ben and Ling Wei Tan, 58cm Junyao!

Restocks: 30cm Delia, Lorina and Loretta, 40cm Nianer and Mousee, 44-46cm Zuzana, Bohe, Bella, Ailsa, Arthur, and Wind!

[08.02.2018] MOVING DONE!
Our move is finally done, and shipping and processing is back to normal!
Thank you everyone for your patience!
[01.01.2018] MYOU DOLL YOSD SHIPMENT!
Restocks on previously sold out 27cm-30cm models today, and also the arrival of MYou's XiaoBuDing 30cm Boy!

[11.20.2017] MYSTIC KIDS SHIPMENT!
Restocks on models on the newest 3-part 44-45cm bodies, including Caroline, Evelyn, Francis, Francis SP, Natalia, Ophelia, Sean, and Tremmel!

[11.19.2017] MYOU SHIPMENT!
Restocks and a couple of new models have arrived! Back in stock: 30cm Lorina, 40cm Loretta and Matcha, 44cm Delia! NEW in stock is the NEW 30cm version of Delia and NEW 44cm Zuzana!

[09.05.2017] MYOU SHIPMENT!
Restocks today on previously sold out models! 27cm BiXuan, 30cm DouDou and Lorina, 40cm Nianer, Matcha, and Mousee! 45cm Delia, Arthur, Bohe, Vera, Ailsa, and Zimo! 60cm Carl and Grace!

[07.03.2017] BOBOBIE SHIPMENT!
In today! 27cm Autumn Deer, March, Isabella, and Pixiu! 40cm Lan! 45cm Jian! 60cm Apollo, Mu, and Gang! 65cm Ling!

[05.28.2017] FALL IN DOLL 30CM FORCE AND RABI 30CM DOLLS ARE BACK IN LIGHT GREY!
Don't ask us how, it took quite a bit of wrangling for us to get these manufactured again...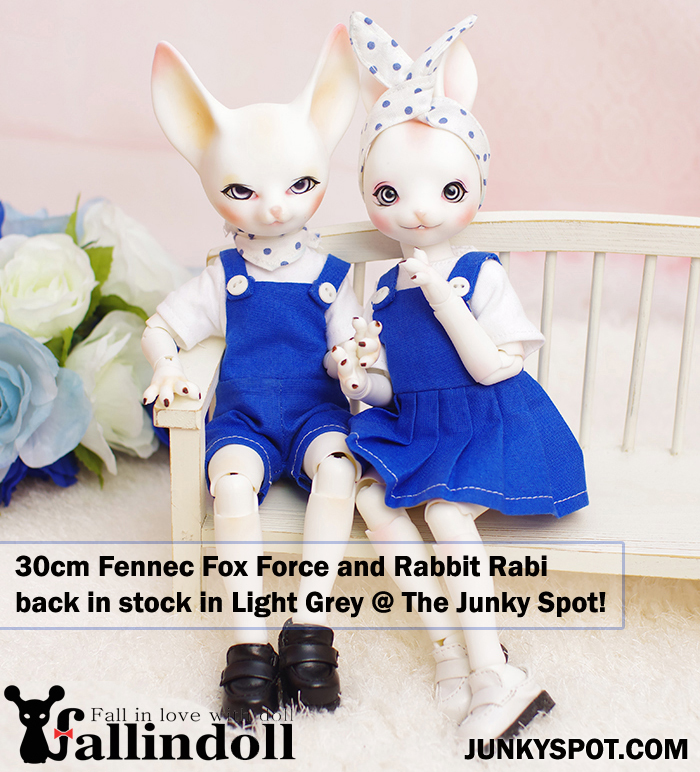 [05.21.2017] OBITSU 24CM BODIES ARE IN STOCK!
Obitsu's latest line!

[05.16.2017] HUJOO 24CM FREYA BACK IN STOCK IN WHITE!
Finally back in stock is Hujoo's 24cm Freya in White, designed right here at The Junky Spot!

[04.23.2017] LATECOMERS TO THE PARTY!
Previously sold out MYou 45cm dolls Ailsa and Wind have made it back into stock today!




Also restocked some Mystic Kids clothing sets and some Mystic Kids wigs as well!
[04.20.2017] MYSTIC KIDS SHIPMENT!
NEW models today: 44cm Nicole and 45cm Oscar! Also now on the new 3-part bodies: Ophelia, Natalia, Francis, Francis SP, Evelyn, and Gene! Also restocks on 60cm Alina, Ellis, Lawrence, and Miri! Restocks on 27cm Nelly, Melody girl, Melody Boy, Hugo, and Christina!

[04.18.2017] MYOU SHIPMENT!
NEW models that have arrived today: 30cm DouDou Girl, 30cm DouDou Boy, 42cm Pear Shaped Loretta, Matcha, and Mousee! RESTOCKED previously sold out models: 30cm Lorina and Loretta, 40cm Big Baby Loretta, 45cm Bella, Bohe, and Delia!